Nestled comfortably on the south side of the Alps between the Adriatic Sea, the great Pannonian Basin and the Balkans, an amazing country awaits your visit. That country is none other than Slovenia. From the "Sunny Side of the Alps" to the only country with the word love in its name, Slovenia has been attributed with many wonderful nicknames.
In this piece, we've decided to give it another: The Land of Extraordinary Diversity. A place that will make you drop everything and come over straight away.
But before we move on to our carefully composed list of the 10 best things to do in Slovenia, let us give you a short intro into what this diversity entails.
Diversity is Slovenia's middle name
In terms of geography and population, Slovenia is small, but it has some of the most varied landscapes, climate, history and culture in the world. You can be sipping coffee in the capital's centre in the morning before going hiking in the mountains, jump in the sea for a quick dip, wine and dine in completely different settings in the eve, then have a nightcap at the same bar you were drinking coffee at. All in one day!
Slovenia is a very young nation, gaining its independence as late as 1991. Yet the country's history is exceptionally colourful and long, stretching back millennia. Whichever part of Slovenia you happen to visit, there's always a museum, castle, church, wine cellar, rustic village or some other interesting venue to discover.
Slovenia is also ethnically very diverse. Although just over 2 million people on the planet speak Slovene, most young Slovenes are fluent in English, many Slovenes of the older generation speak Serbo-Croatian, German or Italian, and plenty speak several other languages, including Hungarian, French, and Spanish. Multilingualism is a perk of being small and it makes communicating with our guests that much easier!
As mentioned, the country is spatially on the small side, but Slovenia's natural world is enormous and remarkably plentiful. Majestic mountains, crystal-clear rivers, and lakes, lush forests, sunny vineyards, mysterious caves and gorges, scenic valleys… These and more give rise to an unbelievably long list of cool things to do in Slovenia that could never fit into one article.
Luckily, our Slovenia Activities team is so passionate about sharing their country's treasures, they decided to present you with the absolute top 10 fun things to do in Slovenia you simply cannot miss out on.
1. Ljubljana – Europe's greenest capital
Visitors to Ljubljana will find that this cute subalpine town strikes the perfect balance between a modern, vibrant city and a laidback cultural hotspot. Like the country itself, Slovenia's capital is small enough to make sightseeing and engaging in activities ridiculously easy, and yet big enough to never run out of things to do. It has
Besides offering numerous possibilities for active City Breaks amidst its striking architecture, green surfaces, and just beyond the city limits, Ljubljana's superb strategic location makes it a very convenient starting point for Day Trips to other parts of Slovenia.
When Ljubljana's pleasant riverside, lively restaurants and bars, cobblestoned streets and bridges, relaxing parks, buzzing markets, museums, squares, and a castle on a hill with views of the picturesque surroundings isn't enough, excellent road connectivity and transfer options take you to other amazing locations in a jiffy.
2. Bled – Slovenia's most prized tourist attraction
One such location is the world-renowned Alpine jewel called Lake Bled. Bled has been a popular destination for centuries. Its breathtakingly gorgeous glacial lake with an island in its centre is an icon symbol of Slovenia's unique touristy appeal. Overlooking the lake on an enormous cliff is the 1000-year-ago Bled Castle, the oldest in Slovenia, which boasts picture-perfect views.
On Bled Island stands an ancient church shrouded in legend, which you can reach by the traditional gondola-like boat pletna. Visiting Bled should certainly include taking a stroll around the lake and trying the delicious local specialty called kremišnita, a creamy dessert that's become synonymous with the place.
Positioned on the edge of Triglav National Park, Bled isn't just an excellent day trip destination, its surroundings offer ample opportunities for excursions into the stunning Alpine countryside, the home of Lake Bohinj, Vintgar Gorge, the Pokljuka Plateau, the Soča River, and the Julian Alps in all their glory. This wonderful natural environment presents you with limitless possibilities for hiking, cycling, kayaking, rock climbing, paragliding, horseback riding, and other activities that we invite you to try.
3. Caves – the incredible underground of Slovenia
Did you know that Slovenia has over 10,000 caves? Thanks to its geological diversity, Slovenia's subterranean world is staggering. And astonishing! A new cave or a whole network of caves is discovered all the time, and quite a few are tourist-friendly.
It would be impossible not to mention our two most famous caves, and if you haven't ventured into their depths yet, you absolutely must. The first is one of the oldest show caves – the Postojna Cave; a subterranean spectacle celebrated for its beautiful rock formations, the world's first underground railway, and a species called Proteus, an indigenous creature also known as the human fish. Located just around the bend from Postojna Cave is the 800-year-old largest cave castle called Predjama castle. Visit them both as soon as you can!
The second underground wonder are the Škocjan Caves that include a UNESCO-protected subterranean river canyon and the largest underground cavern in Europe. Less touristy, the Škocjan Caves are an excellent pit-stop on the way to Slovenia's coast and should not go unvisited. While for our more adventurous guests, we highly recommend a caving tour down one of the country's hidden cave sites. Spoiler alert: you can even go biking or kayaking under the Earth's surface!
4. Mount Triglav – Slovenia's pride and joy
Among the top things to do in Slovenia is climbing Mt. Triglav, our highest and most prized mountain. Depicted on the country's coat of arms, the flag, and ingrained in the soul of every Slovene, Triglav reigns over the Julian Alps and attracts over 80,000 visitors annually. The views from the top and the ascend itself are super rewarding.
There's a multitude of paths that lead up this friendly giant, some intermediate in difficulty, others very demanding, but all promise an unforgettable experience and jaw-dropping panorama. On a sunny day, the views from Triglav's summit stretch across the entire country, even down to the Adriatic Sea. No wonder so many have taken the saying "you're not a true Slovene until you've conquered Triglav" to heart.
Towering above the Triglav National Park, Triglav presents a superb adventure for those with reasonable physical condition and no fear of heights. The best and safest way of ascending Triglav is in the company of a professional local guide, who knows the terrain, weather conditions and can adjust the upward journey to match the mood and capabilities of its partakers.
When the mountains call, answer it by joining an organized Triglav Tour. In summer or winter, families, first-timers, or avid mountaineers can enjoy hiking, climbing, and sleeping in mountain huts before standing on the very roof of Slovenia.
5. Hiking – Slovenia's number one pastime
You must have noticed by now that Slovenes are incredibly keen on outdoor activities. Besides skiing and cycling, hiking is what most of the population does during their free time. And who could possibly blame them? With such diverse terrain and tranquil surroundings literally at everyone's doorstep, trekking up hills, through forests and highland pastures, over mountain ridges and alongside Europe's cleanest rivers is a given.
Slovenia has over 10,000 km of marked mountain trails. When climbing Mt. Triglav seems slightly too challenging, then opting for a less exhilarating variant is certainly a doable option. Undemanding yet picturesque beyond belief, hiking trails in the Triglav National Park promise astounding nature, miraculous views, and lovely wildlife.
From ascending the highest easily climbable mountain or strolling across high mountain pastures dotted with grazing cattle and autochthonous shepherds' villages, to scaling via Ferrata routes or visiting the most astonishing Alpine lakes in the wilderness while staying overnight in authentic mountain huts – there's definitely a hiking quest out there with your name on it.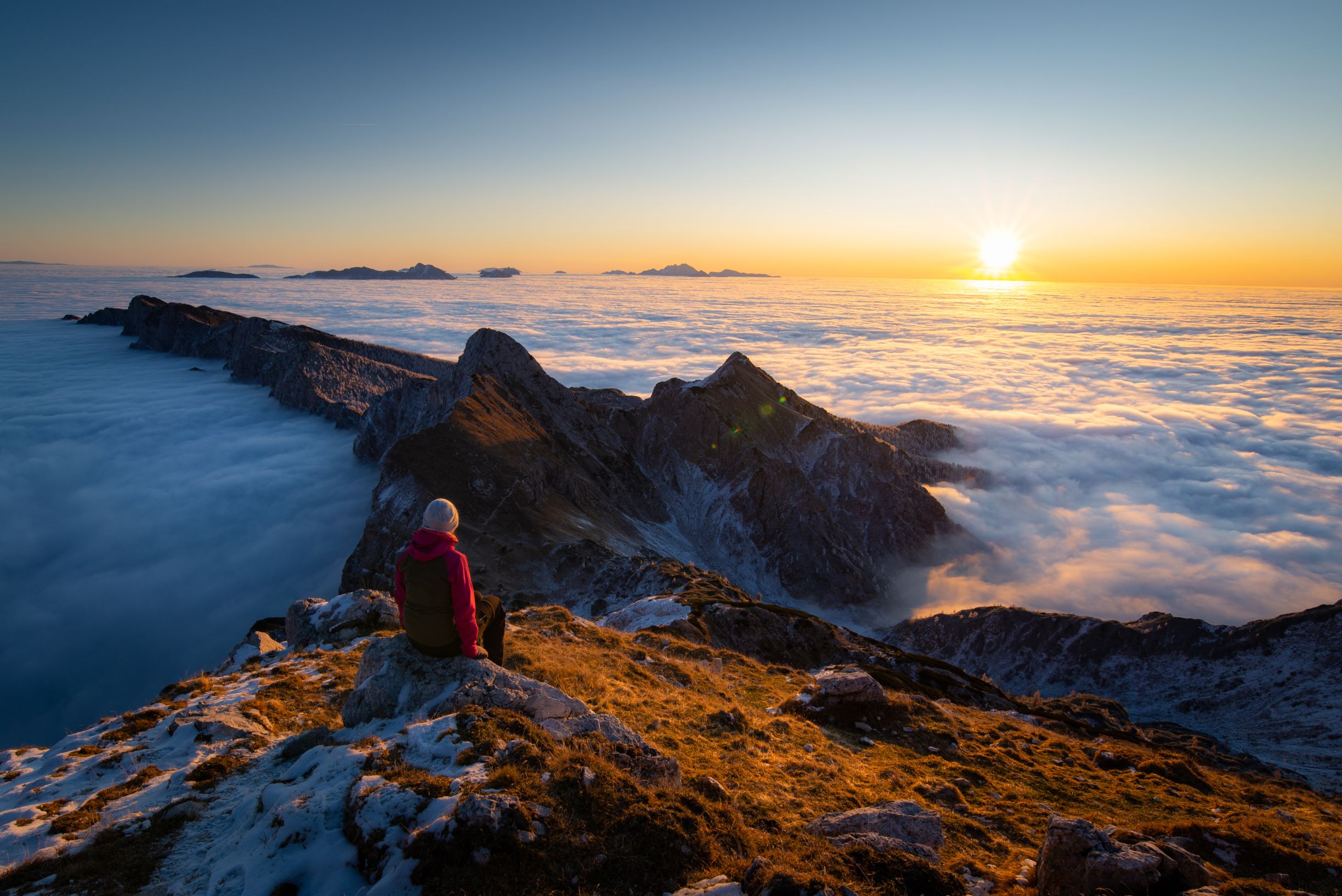 6. Soča – the emerald queen of Slovenian rivers
The 138-km Soča River is an Alpine beauty that winds and carves its way from the heart of the Julian Alps down to the Karst region. It springs to the surface in the scenic Trenta Valley in north-western Slovenia, passing the towns of Bovec, Kobarid, Tolmin, Nova Gorica (where it's crossed by the famous Solkan Bridge), and Gorizia, before flowing into the Adriatic Sea.
The Soča gets its amazing colours from its pure limestone bedrock. It's one of the few rivers in the world that retains this magical colour throughout its course. The Soča and its valley were the stages of bloody WWI battles, while its sexy scenery was the location of several scenes from the 2007 film The Chronicles of Narnia: Prince Caspian.
This astonishing river also made a spectacular 750-metre-long gorge, one of the main attractions of the Triglav National Park. Only a few metres wide and 15 metres deep, this mysterious place is perfect for hiking and even swimming. If you can brave its ice-cold 12-degree water, that is. The Soča Gorge can be explored on foot along an interesting thematic trail throughout the year.
As the place to be for water sports enthusiasts, the Soča's rapids are particularly inviting for fans of kayaking, rafting, canyoning, while stand-up paddling is possible in the Queen's calmer sections. The Soča and its tributaries also have excellent fishing conditions. The top catches among fishermen are the marble trout, grayling, rainbow trout, and marble and brown trout hybrids. You can cast your line in the best spots by joining a local fishing guide.
7. Cycling – the fastest way to sightsee in Slovenia
Slovenia is a nation of cyclists. What can we say, the terrain is perfect for mountain biking and our well-maintained, light traffic roads offer superb conditions for road cycling. Just ask our world-class champs, Tadej Pogačar, who won the 2020 Tour de France, and Primož Roglič, a ski-jumper turned cyclist who now has 47 victories under his belt.
But the reason why cycling has been added to our list of the best things to do in Slovenia is because it's among the healthiest ways of exploring the urban and rural parts of the country up close. Like hiking, cycling has incredibly favourable conditions and is a super accessible sport that can be enjoyed by everyone.
Cycling tours in any region of Slovenia come with their own special features, yet all share the common traits of a flexible means of discovering new places, visiting landmarks, and gaining stamina at the same time. As an added value, e-bikes are most handy for tackling slopes and help less-versed cyclists reach Slovenia's most exciting and distant locations.
8. Wine – Slovenia in liquid form
Wine is yet another diverse element of Slovene culture. It's been around for over 2,500 years, with Slovene winemakers continuing to produce 80 million litres of this exceptionally high-quality beverage. Slovenia has three main winemaking regions (among the top 4% in the world), which thanks to their differences in soil, climate, and approaches to cellaring, produce their own wine varieties. That said, you can try a wide variety of wines anywhere you go.
If you're a connoisseur or just someone who enjoys the odd sip, Wine Tours unquestionably belong among the most fun things to do in Slovenia. You get to visit charming wineries, spoil your taste buds with scrumptious appetizers and learn many interesting facts about this deeply respected Slovene tradition. There are few things as Slovene as walking through vineyards and visiting wine cellars. Old traditional cellars with oak barrels can be found throughout the country, and more are in ever-growing demand. And if you happen to stop off in Maribor, you should certainly check out the oldest grapevine in the world; a 400-year-old vine simply called The Old Grapevine.
9. Gastronomy – a tasty treat for any visitor to Slovenia
Slovenia's diversity is far-reaching and food, which by the way goes splendidly with our wine, deserves a spot among the best things to do in Slovenia. We have one thousand years of culinary tradition, 26 gastronomic regions and 365 authentic dishes to try. Slovene gastronomy is a unique blend of Italian, Germanic and Balkan delicacies with a pinch of autochthonous ingredients, guaranteed to bring out the foodie in you.
Not to brag, but in 2020 alone, Slovenia received 6 Michelin stars, two of which went to the Hiša Franko restaurant run by world-renowned chef Ana Roš. If you would like to put your own cooking skills to the test, cooking classes come highly recommended, while fine dining and doing so in pitch dark, together with fantastic wine and beer tasting options are available at Slovenia Gastronomy, where your plate and glass are never empty! Then there are proper Food and Holidays for all of you who would like to indulge in Slovenia's culinary culture to the fullest. Pun certainly intended!
10. Skiing – when Slovenia turns into a winter wonderland
Last but not least, here's another national pastime for our best things to do in Slovenia to come full circle: skiing. More precisely, all types of skiing and other snow-related fun can be had at numerous breath-taking locations.
In wintertime, Slovenia's countryside is utterly transformed by a blanket of snow and ice. It's not only beautiful, it's a skier's paradise. Once again, the climate and terrain have our backs and promise a wide selection of cross-country skiing, snowshoeing, sledging, snowboarding or classic skiing adventures in a number of affordable, uncrowded and, you guessed it, diverse ski resorts all over the country. Skiing is so popular in Slovenia deserves an entire article of its own, and will receive one in the near future.
For now, let us tell you that winter in the likes of Bled, Kranjska Gora, Bovec, etc, is definitely a jolly season that can't be missed. From Vogel, high up in the mountains, to Krvavec, extremely close to Ljubljana, or Pohorje, on the doorstep of Maribor, Slovenia's ski resorts offer the finest skiing conditions. Unlike their Italian and Austrian counterparts, Slovene resorts can be enjoyed with half the hassle and twice the accessibility.
There you have it. Without an ounce of exaggeration, Slovenia packs everything your heart, mind, eyes, tongue – your entire body – could possibly imagine. The Land of Extraordinary Diversity leaves no one hanging, regardless of age, physical condition, culinary preference or holiday expectations.
But in case you still haven't decided on what is your best thing to do in Slovenia, you can count on us to supply you with the answer. Just drop us a line and let us organize your visit to Slovenia the way you imagined it. We do the planning, so you can enjoy your activities in Slovenia to the max. Let's do this!